My Collaborative Team will hold our next webinar on April 3rd at 12pm EST.
Systems Thinking and Its Relevance to the Collaborative Process
, will be hosted by Randy Heller, PhD, LMFT, LMHC. Dr. Randy Heller, Adjunct Professor of Marriage and Family Therapy at Nova Southeastern University, will present a 90 minute webinar on Family Systems Theory - teaching you how an understanding of this theory can transform your Collaborative Practice by enabling and empowering you to develop the necessary mindset to make the continued paradigm shift and do your best work. An understanding of this theory and its application is so important that it is now included in the requirements for credentialing in Florida.
Fill out the form below to register!
My Collaborative Team members can email the
My Collaborative Team webmaster
to claim your
FREE
registration!

My Collaborative Team is proud to launch our brand new
CollaborEAT!
series. CollaborEAT! is our participants chance to ask their Collaborative Process questions to experienced and distinguished Collaborative professionals from around the world. Whether you are a professional just starting out with the Collaborative Process or you are a seasoned veteran, we encourage all of our participants to engage in our digital Collaborative conversation.
CollaborEAT! will run monthly and always be free for My Collaborative Team participants. If you have questions about how to sell the Collaborative Process, specific situations that pertain to the Process, experience using the Collaborative Process and much more, the CollaborEAT! series is perfect for you. Get your questions answered and share your knowledge with trained and experience Collaborative Professionals from around the world.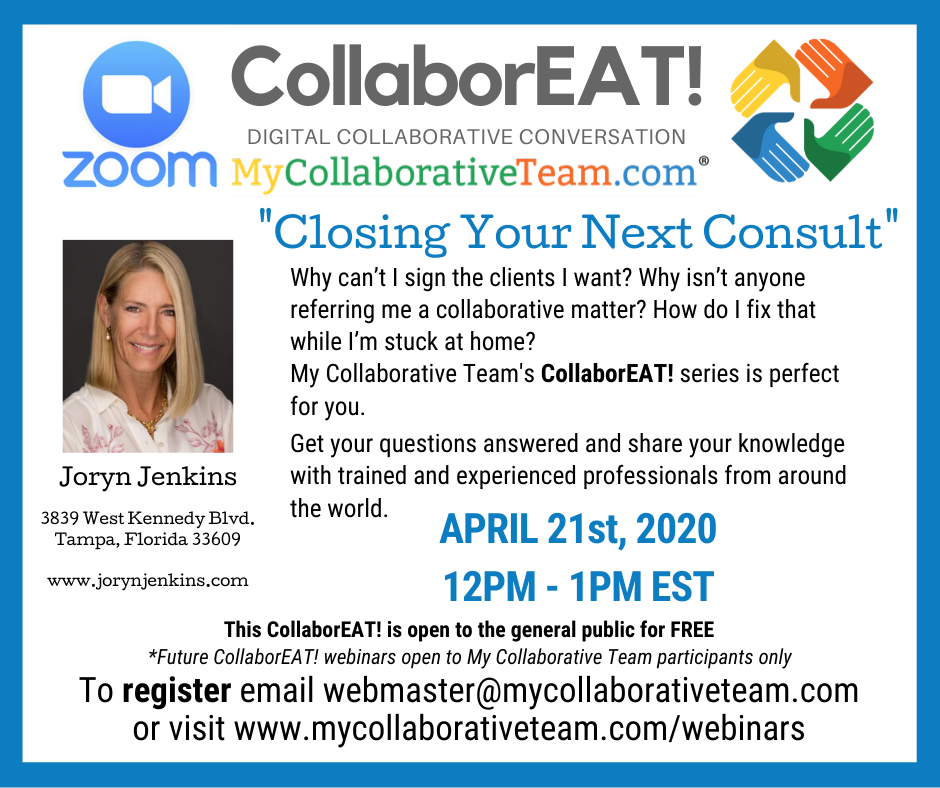 Fill out the form below to register!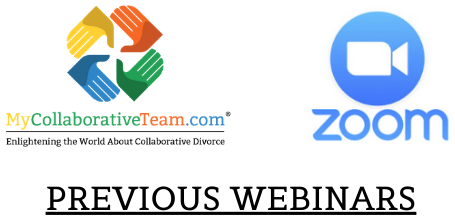 Addressing Domestic Violence/IPV In The Collaborative Process
- This 90 minute webinar was hosted by Rebecca Fischer, Ronda Fuchs, and Edward Sachs and provided participants with an understanding of the impact of the Collaborative Divorce Process Act on cases with a history of domestic violence. Participants developed a greater understanding of the dynamics occurring in Intimate Partner Violence (IPV) and how to address that in Collaborative settings. We will explore options, decision making and team protocols for families in which ITV has occurred. Proceeds from this webinar helped My Collaborative Team become a Bronze Sponsor at this years Florida Academy of Collaborative Professionals Annual Conference.
How To Close The Sale
- Part 1 of the My Collaborative Team CollaborEAT! series. Kevin Scudder answered questions and gave tips on how to sell the Collaborative Process to your clients.
If you would like to obtain a recorded copy of any previous webinar, please email the
My Collaborative Team webmaster.
What previous attendees have said about our webinars
"Detailed information about the subject matter."
"This is just the right information I need at the right time in my collaborative practice."
Future Webinars
Check back often for a list of all our upcoming webinars.